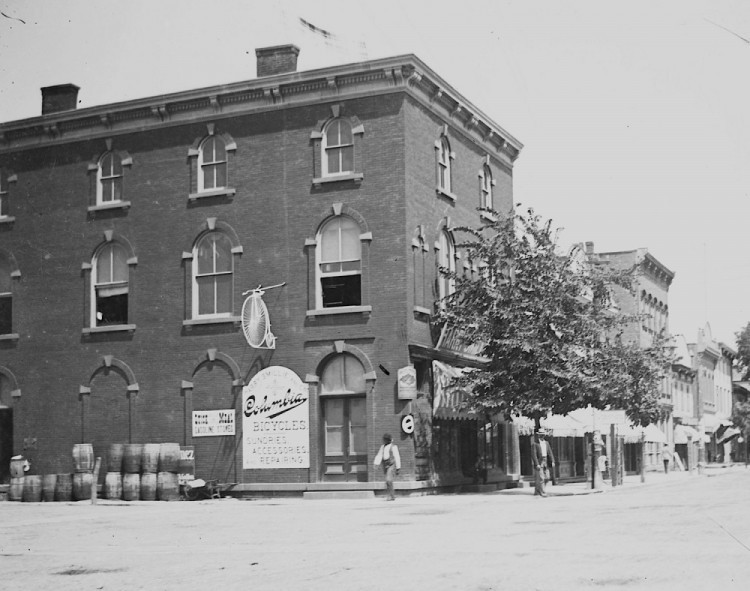 The RHS archives is a treasure trove of exciting history. It consists of records dating back to the 1700s, including books, pictures, maps, letters and diaries. The catalog of the archived materials can be accessed below.
Posing with bicycles, c. 1890.
Photographer: Frank Asher
Friday night 3/31/23, we held a joint live program at Rhinebeck Town Hall sponsored by the Dutchess County and Rhinebeck historical societies about the history of Oak Street.
Here is the link to the video.
June 2023: Last Friday night we had a live program at the Starr Library given by Joanne Lukacher and Stacy Whittaker describing the Dutchess County Sampler Initiative and the upcoming Sampler ID Days. The video is finished and you can find it at the link below. I want to thank Jeff Christensen for both filming the program and helping with the editing. This will serve as an intro to the June 2-3 live event at the Starr known as Sampler ID Days (see description below).
Sampler ID Days is a Hudson Valley-wide effort to locate, photograph, and document American samplers and related girlhood embroideries held in the public and private collections of our region. Coordinators for this initiative are working with local museums, historical societies, historic homes, private collectors, and descendants, to identify antique schoolgirl samplers in their collections and document them for inclusion in the Sampler Archive, an online searchable database of American schoolgirl needlework (samplerarchive.org).
Owners of antique samplers are encouraged to bring them to the Starr Library, 68 West Market Street, Rhinebeck, on Sampler Identification & Documentation Day June 2 – 3, 2023. Friday June 2nd, 12:00 – 4:00 pm, by appointment only; Saturday June 3rd, 10:00 am – 4:00 pm, appointments & walk-ins. (There will also be Sampler ID Days on Sept. 8 – 9, 2023, at the Wallace Center, FDR Historic Site, Hyde Park).
For more detailed information, contact Stacy Whittaker at swhitt@prodigy.net or refer to the attachment.
Saturday afternoon 4/22/23, Fr. Richard McKeon, Rector of the Episcopal Church of the Messiah Rhinebeck spoke about the history and architecture of this historic Rhinebeck church. Here is the link to the video.