Saturday, May 28, 2022 at 10:00 am, a long-overdue recognition of one of the region's most prominent religious figures will take place at Quitman House, at
7015 Route 9, just north of the intersection with 9G. Courtesy of the Pomeroy
Foundation, a sign will be unveiled recognizing the minister, Rev. Frederick H.
Quitman, D.D., who came to Rhinebeck in 1798 to serve congregations here and
in neighboring communities. It was no less a figure than George Washington who had encouraged him to move to New York; a further indication of
his prominence is his election by fellow ministers to head the New York
Ministerium. Town Supervisor Elizabeth Spinzia has graciously agreed to do the
unveiling, and we're hoping many of our members turn out for this important
event as well.

Friday, September 30, 2022, at 7:00 pm, Live at Rhinebeck Village Hall
Mothball Fleet on the Hudson
Tony Musso
Friday, October 28, 2022, at 7:00 pm, Live at Rhinebeck Village Hall
The Asher Negatives
David Miller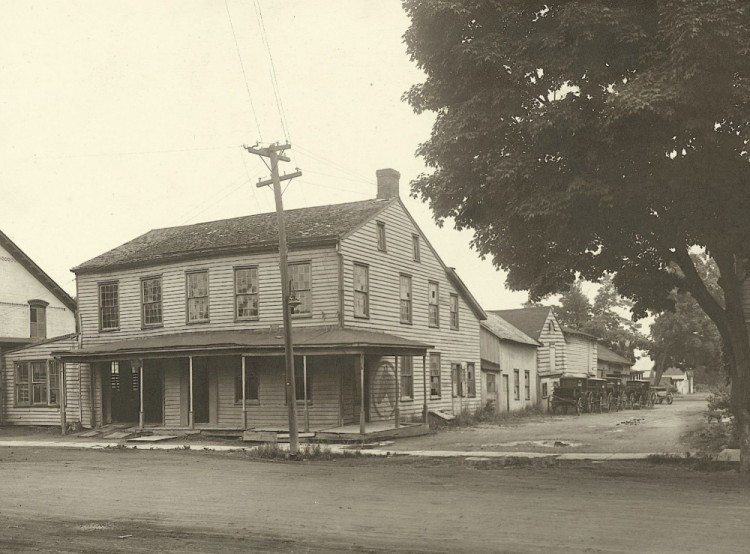 HISTORICAL PRESENTATIONS &

EVENTS
Rhinebeck Historical Society board meetings are usually scheduled for the third Thursday of every month at 3:00pm, but are subject to change depending on the schedules of the majority of the board. We welcome any of our members or members of the public who may wish to attend. Before pandemic time, the board met in the Mary Frazer Room (aka Local History Room) on the lower level of the Starr Library. From March 2020 through April 2021, we held our board meetings instead from our homes, on Zoom. Since May 2021, we have resumed meeting in-person at Starr, with a simultaneous Zoom link. Contact a board member if you wish to attend. Email your request to michaelfrazier@earthlink.net, stating "Attend board meeting" in the SUBJECT line.
Photograph: Quitman House, 1798.
Photograph: Peter R Livingston home in 1828; Fraleigh Livery, 37 West Market (Garden St at right).