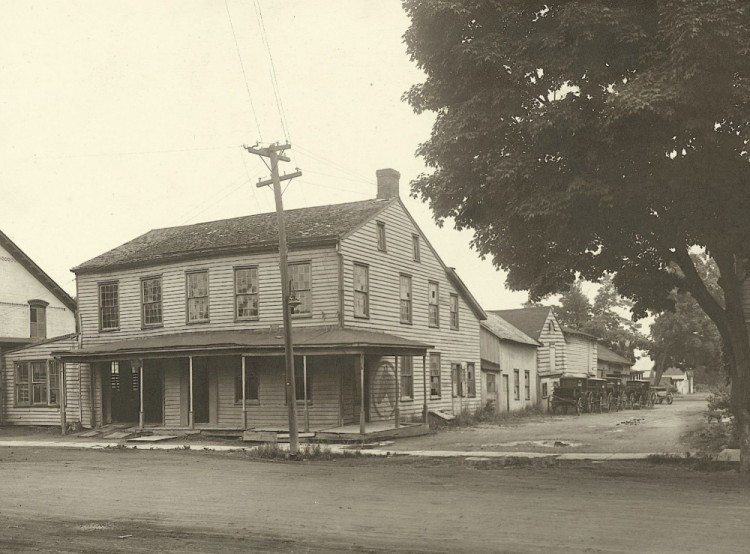 HISTORICAL PRESENTATIONS &

EVENTS
Rhinebeck Historical Society board meetings are usually scheduled for the third Thursday of every month at 3:00pm, but are subject to change depending on the schedules of the majority of the board. We welcome any of our members or members of the public who may wish to attend. Before pandemic time, the board met in the Mary Frazer Room (aka Local History Room) on the lower level of the Starr Library. From March 2020 through April 2021, we held our board meetings instead from our homes, on Zoom. Since May 2021, we have resumed meeting in-person at Starr, with a simultaneous Zoom link. Contact a board member if you wish to attend. Email your request to michaelfrazier@earthlink.net, stating "Attend board meeting" in the SUBJECT line.
Photograph: Peter R Livingston home in 1828; Fraleigh Livery, 37 West Market (Garden St at right).
Coming Soon:
Friday, Jan. 27 - 7:00 pm, ON ZOOM, Shannon Butler - Historic Murders in Dutchess County
Shannon Butler, the Historian for the Poughkeepsie Library District will share her research of some of Dutchess County's most gruesome murders from the 18th through the early 20th centuries. Using court records, early newspaper articles, and pamphlets, we will examine several killers including one of the first female serial killers, the horrible murder of a Poughkeepsie businessman in his own home, and several more bloody acts. If you love true crime and history, then this program is for you.
"Historic Murders in Dutchess County" will be posted on YouTube. Don't miss this and future events by subscribing to:
Rhinebeck Historical Society