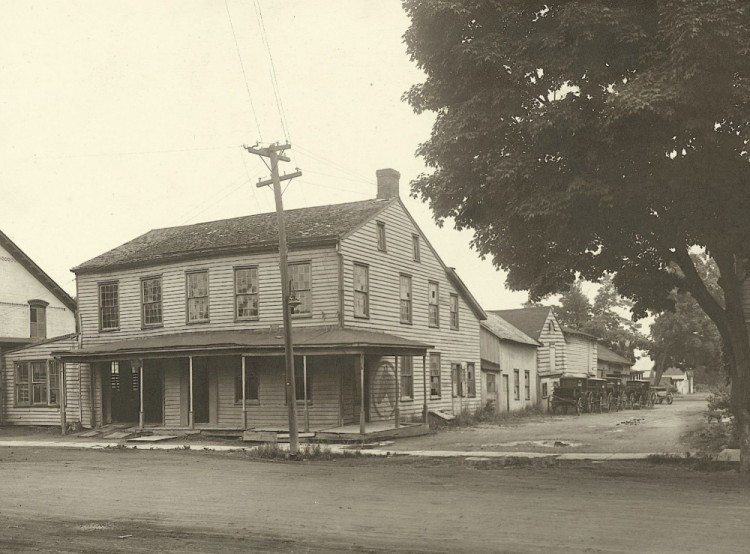 HISTORICAL PRESENTATIONS & EVENTS
Rhinebeck Historical Society board meetings are usually scheduled for the third Thursday of every month at 3:00pm, but are subject to change depending on the schedules of the majority of the board. We welcome any of our members or members of the public who may wish to attend. Before pandemic time, the board met in the Mary Frazer Room (aka Local History Room) on the lower level of the Starr Library. From March 2020 through April 2021, we held our board meetings instead from our homes, on Zoom. Since May 2021, we have resumed meeting in-person at Starr, with a simultaneous Zoom link. Contact a board member if you wish to attend. Email your request to michaelfrazier@earthlink.net, stating "Attend board meeting" in the SUBJECT line.
Photograph: Peter R Livingston home in 1828; Fraleigh Livery, 37 West Market (Garden St at right).
The program will be posted on YouTube. Don't miss this and future events by subscribing to:
Rhinebeck Historical Society
Saturday, April 22, 4:00pm, AT CHURCH OF THE MESSIAH, Fr. Richard McKeon, Rector of the Episcopal Church of the Messiah, Rhinebeck.
Come, see the newly renovated church, and hear Fr. Richard speak about the history and architecture of the building. For those of you who watched the HBO series "The Gilded Age", you can see where Mrs. Astor actually sat on Sunday mornings, and during long sermons, planned her next battle with Mrs. Vanderbilt, for control of New York society. Messiah contains some of the best examples of 20th century, American Stainglass, with windows designed by Louis Comfort Tiffany and John LaFarge. It was also a spiritual home for many of the wealthy families of the Hudson Valley, including the Astors, the Suckleys and the Mortons. It is a congregation housed in a beautiful historic building with a ministry of progressivism and social justice in our community, blending history and action. We have planned the tour during the daytime so that the windows can be viewed to their best advantage.
American Legion at Church of the Messiah and Auxiliary, Joe Schlemmer - Gordon Cotting holding American Flag and Jim Stone at ease, holding rifle at left. Many Memorial Day and Labor Day parties on Rhinecliff Road, Rick Raible - Walt Schad middle row, behind flag, Tommy Loeber - Dewitt Gurnell is back row second from the right, Diane Closs - Right behind the woman and next to Dewitt Gurnell is Wesley Closs who was a WWI veteran and worked in the Rhinebeck Post Office. Janet Champlin - Mike Lehr, navy, second row left. Photographer: Frank Asher.