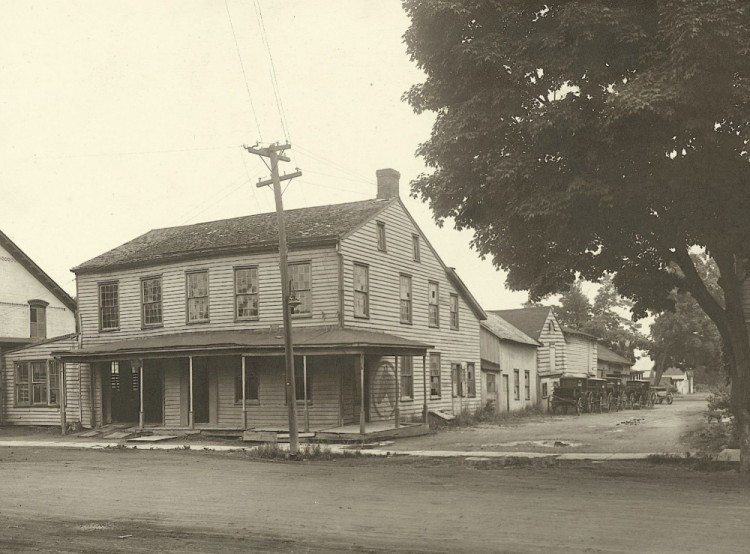 HISTORICAL PRESENTATIONS &

EVENTS
Rhinebeck Historical Society board meetings are usually scheduled for the third Thursday of every month at 3:00pm, but are subject to change depending on the schedules of the majority of the board. We welcome any of our members or members of the public who may wish to attend. Before pandemic time, the board met in the Mary Frazer Room (aka Local History Room) on the lower level of the Starr Library. From March 2020 through April 2021, we held our board meetings instead from our homes, on Zoom. Since May 2021, we have resumed meeting in-person at Starr, with a simultaneous Zoom link. Contact a board member if you wish to attend. Email your request to michaelfrazier@earthlink.net, stating "Attend board meeting" in the SUBJECT line.
Photograph: Peter R Livingston home in 1828; Fraleigh Livery, 37 West Market (Garden St at right).
Coming Soon:
Friday Nov. 18 – 7:00 pm, Live at Rhinebeck Village Hall, Bonnie Wood presents, "Artist Dorothy Knapp Stamped her Mark on History". All ages are invited to view the Dorothy Knapp Collection in person. Envelopes will be provided to those who wish to sketch a cachet for someone special.

Today, 1st day of issue covers created by Dorothy Knapp, the "Queen of the Cachet Makers", are sought after by collectors worldwide. Rhinebeck wife, mother, teacher and cachet artist impacted the Rhinebeck community and captured moments in history from her home in Rhinebeck Village.

Come to view over 50 cachets on loan from the Museum of Rhinebeck History and hear the story of the remarkable woman behind the art. Subjects of the cachets include WWII, transportation, statehood centennials and branches of the military.